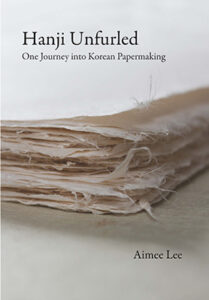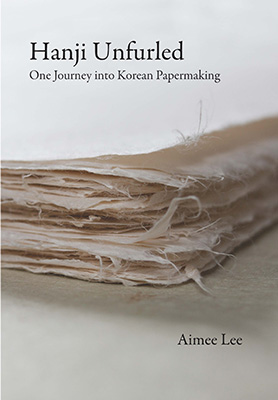 Hanji Unfurled
Published by The Legacy Press. For libraries, schools, book-arts and conservation programs, non-profit organizations, retailers, and wholesalers, click here. Regular customers can order online from Seattle Book Company.
Honored by the Eric Hoffer Book Award in 2013.
US: Available at The Colophon Book Shop, Exeter, NH
Galapagos Books, Hastings-on-Hudson, NY
Morgan Conservatory, Cleveland, OH
Still Point Gallery, Cleveland, OH
Wessel & Lieberman, Seattle, WA
Korea: Available at Seoul Selection online and at Hank's Book Cafe.
Essays/Articles
Hand Papermaking—"My Hands Are Listening: Thoughts on Transforming Paper into Textile," vol. 32, No. 1 (Summer 2017)
Guild of Book Workers Journal—"Hanji in the hands: Korean papermaking methods & creative uses," 2016
Hand Papermaking—"Young Papermakers Today: Three Profiles," vol. 31, No. 1 (Summer 2016)
IAPMA Bulletin—"Hanji Takes Center Stage," vol. 54, 2015
Graphic Impressions—"Intaglio & Relief Printing on Morgan Conservatory Handmade Papers," Fall 2015
American Folklore Society—"Becoming a Papermaker: Best Practices from Japan to the U.S.," 2015
Paperslurry—"A New Naginata, in Cleveland," Sept 9, 2014
Surface Design Journal—"Cultivating Hanji in America," vol. 34, no. 4 (Summer 2014)
Another Escape—"Korean Papermaking: Paper, Place and People," vol. 3
Kyoto Journal—"Jiseung: A Journey into the Korean Art of Weaving Paper," vol. 77
Central Booking—"From Sheet to Thread to Page: Knitted Paper Books," vol. 4, Issue 4 (Nov 2013)
Hand Papermaking—"Korean Papermaking Goes West," vol. 27, no. 1 (Summer 2012)
Book Arts arts du livre Canada—"Making History in Cleveland," vol. 2, no. 1, 2011
Hand Papermaking—"Generations of hanji: Korean papermaking from the field to YouTube," vol. 25, no. 2 (Winter 2010)
Bull & Branch—"Jiseung: One Journey in to the Korean Art of Weaving Paper," vol. 29, no. 3 (Sept 2010)
Infusion Magazine—"When the Student is Ready, the Teacher Will Appear," no. 3
Buddhism & Culture Magazine—"Buddhist Illumination of Korean Papermaking's Past and Present," no. 5
Kami Newsletter—"Searching for Yupmuljil in the Korean Countryside," vol. 4, Asa Press (CP) (Nov 2009)
Yellow Medicine Review—"Broken First Words Sestina,"  (Spring 2008)
Press/Reviews
The US Review of Books—"The Eric Hoffer Award for Books," Reference Category Honorable Mention, May 13, 2013
Hand Papermaking—book review by Minah Song, vol. 28, no. 2 (Winter 2013)
Textile Society of America Newsletter—book review by Barbara Shapiro, vol. 25, no. 3 (fall 2013)
Textile Fibre Forum Magazine—book review by Liz Powell, Issue 113 (print only)
Shuttle Spindle & Dyepot—book review by Molly Elkind, vol. 44, No. 2, Issue 174, Spring 2013 (print only)
Korean Quarterly—book review by Libby Pomroy, Winter 2013, vol. 16, no. 2 (print only)
Hand/Eye—book review by Rebeca Shiller, Mar 28, 2013
one small stitch—Jan 5, 2013
Oberlin Alumni Magazine—"Bookshelf," Winter 2013
The Sunday Paper—Dec 3, 2012
Rivertowns Patch—Nov 12, 2012
Paper Connection blog—Nov 9, 2012
Watts Program, John Carter Brown Library blog—Nov 1, 2012
Hanji Happenings blog—Oct 29, 2012
London Korean Links—Oct 28, 2012
Past book tour dates
American Museum of Natural History
, New York, NY, March 1, 2014
Trinity University
, San Antonio, TX, February 24, 2014
Southwest School of Art
, San Antonio, TX, February 22 – 23, 2014
Friends of the Library
, Oberlin College, OH, February 19, 2014
CBBAG
and
Paperhouse Studio
, Toronto, Canada, November 29 – December 1, 2013
OCAD University
, Toronto, Canada, November 28, 2013
Asian Art Museum
, San Francisco, CA, November 17, 2013
San Francisco Center for the Book
, San Francisco, CA, November 16, 2013
Morgan Conservatory
, Cleveland, OH, August 3 – 4, 2013
Women's Studio Workshop Summer Art Institute
, Rosendale, NY, July 22 – 26, 2013
MassArt Continuing Ed, Boston, MA, July 9 – 12, 2013
Metropolitan Museum of Art Paper Conservation, New York, NY, July 3, 2013
Focus on Book Arts Conference
, Forest Grove, OR, June 26-29, 2013
Minnesota Center for Book Arts
, Minneapolis, MN, June 21-23, 2013
Asian American Alliance,
Oberlin College
, OH, April 28, 2013
NY Guild of Handweavers
, NYC, April 27, 2013
Watts Program of the John Carter Brown Library
, Providence, April 13, 2013
North Bennet Street School
, Boston, April 4, 6-7, 2013
c3:initiative
, Portland, OR, March 22 – 30, 2013
Cloth and Goods
, Portland, OR, March 20, 2013
Oregon College of Art and Craft
, Portland, OR, March 18, 2013
Asia Pacific Cultural Center
, March 15 & 17, 2013
Wing Luke Museum
, Seattle, March 16, 2013
UW Seattle
East Asia Library
, March 14, 2013
Mills College Book Art Program
, Oakland, March 12, 2013
Mills College Center for the Book
, Oakland, March 10, 2013
Center for Korean Studies
, Institute of East Asian Studies, UC Berkeley, March 6, 2013
Art Department / East Asian Studies
, UC Davis, March 5, 2013
Center for Book Arts
, NYC, Feb 22 – 24, 2013
Galapagos Books
, Hastings-on-Hudson, NY, Dec 15, 2012
Pyramid Atlantic Book Arts Fair
, Silver Spring, Nov 17, 2012
The Artists Loop
, Pawtucket Public Library, Nov 14, 2012
Boston Paper Collective
, Nov 10, 2012
Watermarks Papermaking Conference
, Cleveland, Oct 17-21, 2012