Hanji Unfurled: One Journey into Korean Papermaking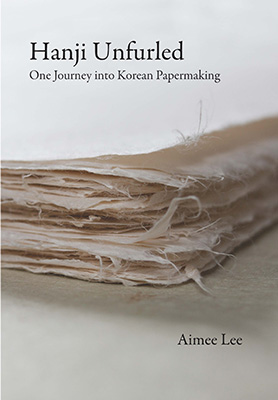 In this first English-language book about hanji, Aimee Lee shares her experience as a Korean–American artist and Fulbright fellow on her search for a traditional Korean papermaking teacher. Of the handful of American hanji researchers, she is the only one to have interacted with Koreans in their own language while simultaneously learning the craft. This book follows her journey as she met papermakers, scholars, and artists from bustling cities to traditional Korean villages to Buddhist temples to island outposts. Not only did she encounter the few remaining papermakers who still practice webal tteugi, the indigenous Korean sheet-formation method, but she found teachers of a whole array of allied crafts that include jiseung (cording and twining hanji), joomchi (texturing and fusing hanji), natural dyeing, and calligraphy. She traveled from the studios of living treasures to the homes of ordinary Koreans, illuminating an often-misunderstood culture through stories from its keepers of traditional heritage.
2013 Eric Hoffer Book Awards: Reference: Honorable Mention  •  First Horizon (superior work by debut author): Finalist
The first English-language book devoted solely to hanji, honored by the Eric Hoffer Book Award. Order from The Legacy Press.
Also available at:
US: Center for Book Arts, NYC
The Colophon Book Shop, Exeter, NH
Still Point Gallery, Cleveland, OH
Wessel & Lieberman, Seattle, WA
Korea: Seoul Selection online and at Hank's Book Cafe.
Book Trailer
 This book is a valuable resource, a must-read not only for papermakers but for anyone interested in perpetuating honored traditions into an environmentally responsible future. Read it, and then get your hands on some hanji.  — Melissa Jay Craig
Lee connects the theory to practice by outlining a chain of empirical examples from her own experience—the difficulty of finding a hanji master, the struggle of early apprenticeship days, and the slow way of learning how to make hanji. Numerous photographs and the author's hand-drawn diagrams of tools and process provide unusual and a truly stunning number of useful details.  — Minah Song
I love this book.… For a glimpse at this uniquely Korean art form – and one artist's journey to discover its versatility – Hanji Unfurled is a gem." "Old art learned the old way."  — Libby Pomroy
More interestingly, her journey to learn about hanji also comprised soul-searching about her identity as a second-generation Korean American.

In fact, this book is captivating because the progress that Lee made in hanji making took place simultaneously with her cultivating emotional and psychological connections not only with her teachers but also with various people she met throughout the year in Korea and beyond.

. . . this book offers a wonderful case study about how traditional handicrafts have been adapted in the modern period.  —Hwisang Cho
Presented with the flow of a travel journal, this book will appeal to those scholars and craftsmen who seek a deeper understanding of fast disappearing traditional processes as well as a frank analysis of the state of the craft in Korea today.  —Barbara Shapiro