Artist Statement
Handmade paper is my perpetual partner, strong and resilient while appearing to be the opposite. I use Korean paper, known as hanji. For well over a decade, I have researched techniques to make hanji and transform it into artists' books, sculpture, installations, garments, prints, and hangings. I use joomchi to produce clothlike texture, jiseung to twist and twine strips of paper like basketry, plants and insects to extract multi-colored dyes, and drop spindles to spin paper into thread to weave and sew. This intense hand work connects to ongoing Korean and East Asian traditions, which roots my daily labor in a lineage that traces back centuries, learned in quiet studios of national treasure holders who have dedicated their lives to similar work.
Because paper holds memory in its fibers, I collect, recycle, and harvest my own materials, whether from local plants or fabric remnants. To evolve hanji technology, I experiment with North American plants in a custom hanji vat and studio. This mirrors my experience as a Korean American as I excavate my life to express themes of belonging, human frailty, and subtle details of what it means to be a person in the world. I pull on threads of history through field work, study with intangible heritage holders, and by spending time with nameless paper artifacts in museum storage to inspire new iterations. Through this continuous research and practice, I use hanji to create a place for myself and abundant possibilities for those who follow.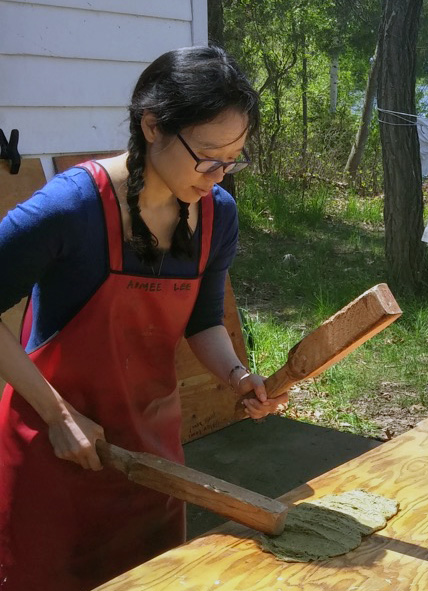 Biography
Aimee Lee is an artist who makes paper, writes, and advocates for Korean papermaking practices in the U.S. (BA, Oberlin College; MFA, Columbia College Chicago). Her initial Fulbright research helped her build the first hanji studio in North America and write her award-winning book, Hanji Unfurled.
She exhibits and is collected internationally; her work has shown at the Fuller Craft Museum, Islip Art Museum, Museum of Nebraska Art, Allen Memorial Art Museum, and the Korean Cultural Centers of the Korean Embassy in D.C. and Korean Consulate in NYC. Library collections that hold her work include the Metropolitan Museum of Art, Museum of Modern Art, Brooklyn Museum of Art, Bainbridge Island Museum of Art, Stanford University, UCLA, and Yale University.
She travels the world to teach and serves her regional community as an Ohio Arts Council Heritage Fellow, teaching papermaking and book arts at Oberlin College during their Winter Term. Funders include the US Fulbright Program, Korea Fulbright Foundation, John Anson Kittredge Fund, American Folklore Society, Center for Craft, Oak Spring Garden Foundation, and SPACES.
Her second Fulbright award as a senior scholar focused on further research of Korean papermaking tools, and continued her training since 2009 with various national and provincial Intangible Cultural Property Holders. She also trains the next generation of papermakers in the Korean tradition from the Korean diaspora and beyond at her dedicated hanji studio in South Euclid, Ohio.