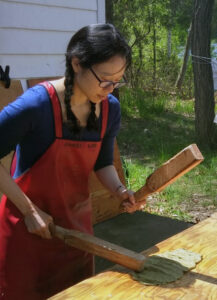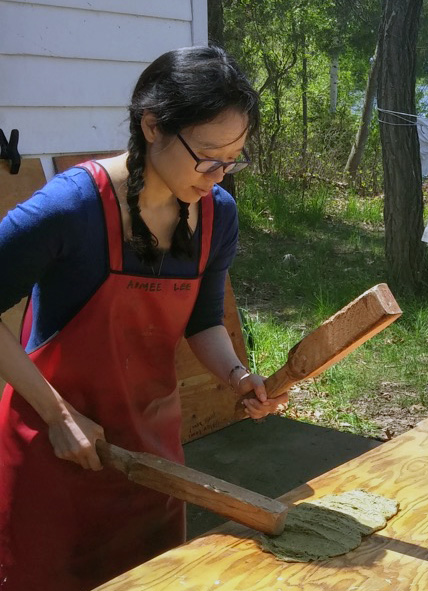 Bio [download CV]

Aimee Lee is an artist, papermaker, writer, and the leading hanji researcher and practitioner in North America. Her Fulbright research on Korean paper led to her award-winning book Hanji Unfurled (The Legacy Press) and the first US hanji studio in Cleveland. Her artwork resides in collections that include the Brooklyn Museum of Art, Metropolitan Museum of Art, Museum of Modern Art, Bainbridge Island Museum of Art, Stanford University, UCLA, and Yale University. She has shown at the Fuller Craft Museum, Robert C. Williams Museum of Papermaking, Korean Cultural Service (NYC) and Korean Cultural Center (D.C.). Her work has appeared in The Korea Times, The New York Times, The Plain Dealer, KBS World Radio, PBS, VOA, and CNN's Great Big Story.
Aimee has taught and lectured at the American Museum of Natural History, Asian Art Museum, Cleveland Museum of Art, Denver Art Museum, Detroit Institute of Arts, Oberlin College, Massachusetts College of Art and Design, Mills College, UC Berkeley, University of Michigan, Haystack Mountain School of Crafts, and Penland School of Crafts. Funders include the US Fulbright Program, Korea Fulbright Foundation, John Anson Kittredge Fund, American Folklore Society, and the Center for Craft. She creates and expands studios for Korean and East Asian papermaking, travels the world to share her artwork and expertise, and serves her region as an Ohio Arts Council Heritage Fellow.
Video funded by the Ohio Arts Council; this artist was awarded the Ohio Arts Council's Ohio Heritage Fellowship for 2019.

Artist Statement
Through hand papermaking I explore connections between humans and how we live among others. In a water and cellulose centered process, I work in changing seasons and far-flung locations with plants and materials at hand. From each unique batch of paper, I make books, hangings, sculptures, installations, or whatever the paper needs to become. I source materials and techniques from Korea though I am interested in plants, colors, and traditions comes from fiber methods around the world. Through artists' books, I began to make paper and was compelled by the constant motion of water, the ecologically sound process of manufacture, and the variety of wild materials I could source. When I studied papermaking history, I noticed a gap when it came to Korean paper—hanji—and decided to fill it.
During my fieldwork in Korea I discovered more than paper. I learned to make, fuse, texture, cord, weave, and dye hanji. In the mountains, I harvested paper mulberry trees to extract their long fibers. These strands became luminous paper with a history of becoming objects for survival, ritual, and pleasure. I create contemporary versions, like a garment patched from scraps, a woven bird inspired by wedding ducks, or a commonplace book with multiple narrators, excavating my heritage to reveal stories we rarely see or read.
Books
eyeseverywhere | ojosportodoslados : 10 años | 10 years, ed. Elizabeth Ross (Blurb, 2016)
Japanese Woodblock Print Workshop: A Modern Guide to the Ancient Art of Mokuhanga, April Vollmer (Watson-Guptill, 2015)
A Song of Praise for Shifu, Susan Byrd (The Legacy Press, 2013)
500 Paper Objects: New Directions in Paper Art (Lark Books, 2013)
1,000 Artists' Books: Exploring the Book as Art, Sandra Salamony with Peter and Donna Thomas (Quarry Books, 2012)
Design and Make Paper Jewellery, Sarah Kelly (A & C Black Publishers Ltd, 2011)
Handmade Books, ed. Ray Hemachandra, (Lark Books, 2010)
Making Beautiful Book, Narae Kim (Bookpress, 2009)
500 Handmade Books (Lark Books, 2008)
1,000 Artist Journal Pages, Dawn DeVries Sokol (Rockport Publishers/Quarry Press, 2008)
Film / TV / Radio / Podcasts
Traditions: Ohio Heritage Fellows (Season 4)
"Every Day & Special Days," Artist's Books Unshelved, Catherine Alice Michaelis for Bainbridge Island Museum of Art, 2021
Covid Conversations: Life in a Time of Corona podcast, episode 10, interview by Rachel Hopkin, 2021
Cut the Craft podcast interview, Sep 12, 2020
Aimee Lee: Art of Making Hanji, ideastream, Dec 17, 2019
Paper Talk podcast interview, Jan 25, 2019
Great Big Story, "One Artist's Audacious Pursuit of Traditional Korean Hanji," Aug 2, 2017
Voice of America, "Artist Carries on the Ancient Tradition of Handmade Korean Paper," reporter June Soh, May 17, 2017
YTN (Global Korea)—"천년 한지, 미국에가다…공예가 에이미 리," 청춘, 세계로 가다," Apr 2, 2016
Creative Voice—"Korean Art Workshop," Mar 19, 2016
KBS World Radio—한민족 네트워크, interview, Mar 16, 2016
Applause, ideastream WVIZ/PBS—Dennis Knowles, producer, "Papermaker Aimee Lee," Jan 14, 2016
MBC Prime (Korea)—Hanji: Dreaming of a New Millennium, documentary aired Jan 1, 2015
Asian Art Museum—Korean Culture Day, Dec 16, 2013 (hanji segment 2:21 – 2:35)
Bookbinding Now with Susan Mills, Jan 16, 2013
"Maria the Korean Bride: A Film by Maria Yoon" (2013)
Newspaper Feature
The Advocate—Lachlan Bennett, "Artist Aimee Lee teaches Korean papermaking as part of paper on skin," Jun 18, 2018
The Albion Pleiad—Beau Brockett Jr., "Like Her Hanji, Artist Aimee Lee Is Resilient, Versatile," Oct 30, 2017
JoongAng Ilbo—Hwang Joo-young, "2세 예술가 에이미 이씨, "한지로 정체성을 찾았다"," Mar 11, 2016
The New York Times—Martha Schwendener, "Highlights From Asia Week," Mar 10, 2016
Yonhap News, "뉴욕서 '한지 우수성' 세미나…"NASA 첩보위성에 한지 사용" Oct 9, 2015
The Plain Dealer—Gus Chan, "Ancient art is a study in patience, perfection," Aug 9, 2015
Oberlin News Tribune—"See breathtaking works of ancient paper," Jan 26, 2015 (print only)
The Korea Times—Chung Ah-young, "Korean-American dedicated to papermaking tradition," Jan 8, 2015
The Korea Times San Francisco—Shin Young-ju, ""CKS, 한지예술가에이미리씨강연," Mar 7, 2013
The Columbus Dispatch—Elizabeth Trapp, "Sheafs-d'oeuvre: Works of paper defy expectations of supposedly fragile material," Sept 8, 2013
The Rivertowns Enterprise—Jackie Lupo, "Papermaker broaches art and ancient craft," Nov 30, 2012 (print only)
The Martha's Vineyard Times—Pat Waring, "Show to highlight many personalities of handmade paper," Sept 12, 2012
The Detroit News—Michael H. Hodges, "Expect the unexpected at Butter Projects in Royal Oak," Jun 14, 2012 (print only)
South Florida Times—Nicole White, "Gallery Adds Caribbean Twist to Art Basel," Nov 11, 2009
The Post-Star—Doug Gruse, "The Fiber of Korea: 'Abundance' explores hanji paper making," Nov 10, 2009
The Rivertowns Enterprise—Dina Sciortino, "Hastings grad's Fulbright extends her paper trail," Feb 27, 2009 (print only)
The Providence Journal—Bill Van Siclen, "You'll never look at paper the same way again," Jun 28, 2007 (print only)
The Grand Island Independent—Mike Bockoven, "Exploration in Isolation: Artists find inspiration down on the Art Farm," Oct 29, 2006 (print only)
Magazine Feature

The Long Thread—Linda Ligon, "Aimee Lee Makes Hanji," Long Thread Media, 2020
DEMO Magazine—Audrey Mast, "Paper Pusher," issue 19 (fall/winter 2013)
Korean Quarterly—Libby Pomroy, "Can you believe this is paper?" vol. 16, no. 4 (2013, print only)
Textile Fibre Forum Magazine—Janet De Boer, "Wandering into Jiseung: Aimee Lee" Issue 113 (print only), May 2013
Shuttle Spindle & Dyepot—Judy Dominic, "Aimee Lee and the Art of Hanji," vol. 44, no. 2, Issue 174, Spring 2013 (print only)
Interweave Knits—Sabrina Gschwandtner, "Artist Spotlight: Knitting the unspoken," Winter 2010
Fiberarts Magazine—"Craft Centers Expanding," Nov/Dec 2010 (out of print)
Korean Quarterly—Amber Dorko Stopper, "Sustained: The Work of Aimee Lee," vol. 13, No. 3 (Spring 2010)
HAND/EYE—Rebeca Schiller, "Fiddling with Paper: Aimee Lee's Paper World," Apr 22, 2010
Diaweb—María de Jesús Cordero, "The Restless Landscapes of Aimee Lee's Hanji Paper Art," 2009
Hand Papermaking—Rory Golden, "Working the Mulberry: Kozo Paper in Book Art," vol. 23, no. 2 (Winter 2008)
DEMO Magazine—"Portfolio," vol. 7 (Summer 2008)
American Craft—Christine Temin, "Pulp Function: The Constant Is Paper," Oct/Nov 2007 (print only)
Ampersand: The Quarterly Journal of the Pacific Center for the Book Arts—Steven C. Daiber, "Exhibition Review: Fiber + Book," vol. 25 no. 1 (Fall 2007)
Interviews
Guild of Book Workers Journal, Victoria Birth, "Reflections, a Series of Interviews: Documenting the Voices of Book Art and Craft Practitioners, Students, and Educators," vol 51 (2022)
Korea.net, Fotini Chatzoudi, "Korean American pioneer of Hanji discusses her craft," Sep 7, 2022
Sharjah 24, "Aimee Lee: 'Wrapped in Hanji' reflects Korean traditions at SHD," Mar 14, 2021
Hanji Culture and Industry Center, "태평양을 건너간 천년 한지, 에이미 리," Dec 1, 2021
ideastream, Jennifer Marer, "How to Support Asian American Visual Artists in Cleveland," May 26, 2021
Oak Spring Garden Foundation Interview for Covid-19 Relief Grant
Scripps College Book Arts interview with Hayley Pierpont and Lindsey Tam
Paper Talk—Podcast interview with Helen Hiebert, Jan 25, 2019
Oliver + S—Todd Gibson, "An Interview with Hanji Artist Aimee Lee," Mar 7, 2017
Firstindigo and Lifestyle—Inka Juslin, "Aimee Lee about sound, art books and hanji," Aug 19, 2016
Zoneone Arts—Deborah Blakeley, "In Conversation with Aimee Lee," Jan 17, 2016
Barbara Landes—2014
Inspire We Trust—Valentina, "Korean Paper," Dec 5, 2012
Diaspora Vibe Gallery—Wura Ogunji, "Diaspora Vibe Cultural Arts Incubator interviews artist Aimee Lee," Nov 6, 2009
myartspace.com—Brian Sherwin, "Art Space Talk: Aimee Lee," May 15, 2008
Blogs
Oak Spring Garden Foundation, May 28, 2021
Herb Childress, June 8, 2019
John C. Campbell Folk School, May 16, 2019
Distinct Papers—Apr 2, 2017
Clever Charlotte—Feb 22, 2017
Helen Hiebert—Jun 20, 2015
Paperslurry—Apr 14, 2015
Paris To Go—Jan 2015
Ann Starr—Sept 19, 2014
Janet Dodrill—Feb 9, 2014
Anne Marie Desaulniers—Dec 16, 2013
Christine Mauersberger—Aug 4, 2013
Green Chair Press—Jul 23, 2013
Making Handmade Books—Mar 11, 2013
Cari Ferraro—Feb 28, 2013
Susan J. Tweit—Feb 1, 2013
Susan Gaylord—Nov 14, 2012
Friends of Dard Hunter—Oct 24, 2012
Paper Connection—Oct 3, 2012
All Things Paper—Oct 22, 2010
All Things Paper—Oct 18, 2010
Paperphine—Apr 12, 2010