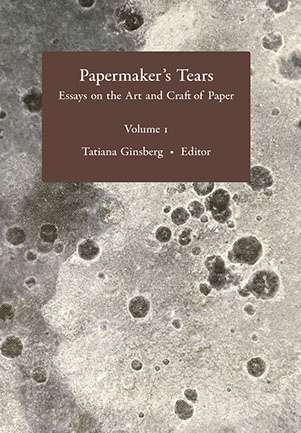 The series, Papermaker's Tears: Essays on the Art and Craft of Paper encompasses all of the papermaking and paper arts, including decorated papers – historical and current. Edited by Tatiana Ginsberg, Volume 1 is out of print, but Aimee generously provides her essay in PDF format here (be patient while it loads as it is a large file).
Aimee Lee, 'The Toolmakers – Those Who Build So We Can Make. Part I: Timothy Moore and David Reina', gives us a welcome foray into the craftsmanship, problem solving and imaginative understanding of the actual making of the two most important tools necessary to make good paper by hand: the hand mould and the beater. The article celebrates the work of two craftsmen who should be praised. Such people are often overlooked in the history of papermaking, but without them nothing would be possible. I very much look forward to reading more on such remarkable people.
Peter Bower, [review of the book Papermaker's Tears], The Quarterly, No. 112 (Oct 2019), p. 38.